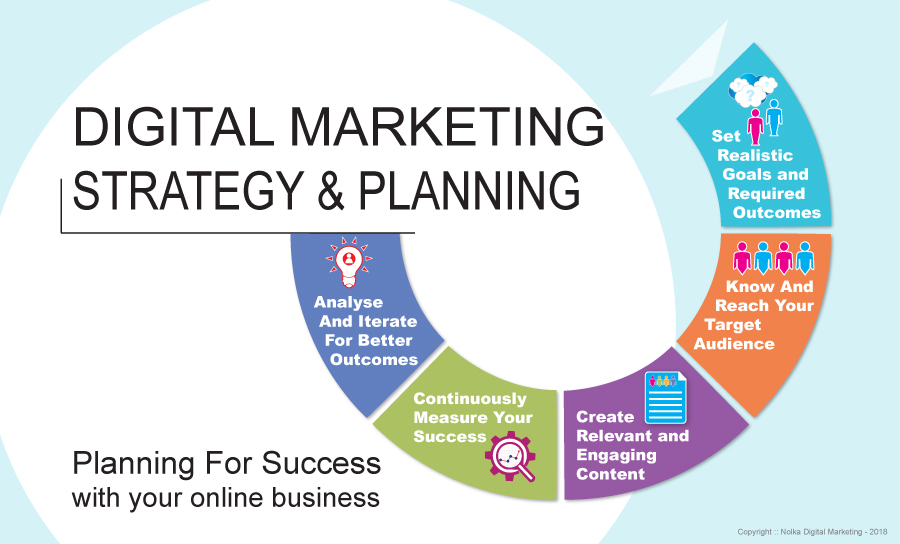 Today we are looking to tackle the very difficult question of what is the perfect digital marketing strategy and that can be hard. There are a lot of different types of business models online. There are news sites, there are e-commerce sites, there are branding sites, there are FAQ sites and they all have different business models and there's so many different ways to advertise nowadays.
At this point in time digital strategy has never been more important. You could be putting all your money into Facebook, LinkedIn, SEO, email marketing and you could also on the other end of the spectrum have a diversified portfolio where you understand the contribution of every single channel and that is what we're looking to get into today.
When it comes to a digital marketing strategy the most important thing is to first define the business goal and then the person as that align with those goals and then create a forecast for each channel so what's the strategy, the traffic, the conversion rate, the conversions and the ROI for every single channel and we've never been able to do this before. Accurately plot the goal and then the strategy for each channel with real numbers within a budget and a timeline to help a client get to that exact goal that they're looking for.
FACEBOOK ADS
Facebook ads are perhaps the best form of online advertising around today. Facebook has over two billion users around the world and because Facebook collects so much data from these users including you and you can leverage that data to your advantage to reach potential customers and clients of your business. However, the key is to run targeted ads on Facebook and you can do that by building custom audiences.
Through the Facebook Ads manager platform so there's a couple things that you can do here one if you have an email list of any kind you can import that data right into Facebook and at any time you run ads even if your ad budget is as little as five or ten dollars you can ensure that those ads that you run are seen by the right audience.
TARGET YOUR AUDIENCE
The biggest mistake that marketers make is they just throw money out at Facebook and don't run targeted ads. So if you're a real estate agent think about running those ads to target first-time homebuyers or people that might potentially be looking to buy a house you have the power of that data right at your fingertips the other thing that you want to know when running Facebook Ads is what is your objective. is it to buy clicks? Is it to buy engagement? Is it to buy views?
So once again if you're spending money on Facebook on ads you shouldn't just throw your money away because you want to get more views on a video or you want to get necessarily more comment to that video. What you want to get is buyers so make sure that your objective is tailored to what your end game is, which in this case would be to get more leads or to get more conversions.
SEARCH ENGINES
Use Instagram and Twitter as search engines. These social networks nowadays provide end users with a lot of data and easy access to reach people. You can go on Twitter right now and you can type into any search phrase. You can type into any business, any executive and a company that you want to work with or that you want to get their attention. So in case if you are a creator or an influencer and you want to work with say Nike, you could go on Twitter right now, you can type in Nike, you can click people and now you can see a search of anyone that has Nike in their profile on Twitter
The same thing applies for Instagram or you can use hashtags to run searches for people that are speaking about specific topics. so if you are let's say an SEO expert you can type in SEO help on Twitter and you can see anyone that's talking about this particular topic. swoop in and offer to help them out that's the power of using Twitter and even Instagram for search. going forward in 2019 make sure that as you're creating content and building relationships on these platforms that you're also using them as search engines next.
OPEN YOUR OWN SOCIAL GROUPS
If you're struggling for getting engagement on any social network then think about starting your own private group whether it's a Facebook group, a Whatsapp chat group, a private group on Twitter which allows you to create private DM groups with up to 50 people, whether it's a private LinkedIn messenger group start-up private groups where you can bring light-minded professionals and colleagues just like you into your own space by creating your own group.
You now are able to control the conversation and steer it in a way where you have content that's fresh and relevant for that audience. You can share it directly with those group members without coming across as being self-promotional. You can also look at the content that other people are posting. Analyze who is your superfans, who are the people that are most interested in your content and invite them into a private group. Private groups are going to be a big trend.
STOP CHASING NEWBORN SOCIAL SITES
Stay informed of what's happening on other social networks but don't go chasing new shiny objects meaning don't go chase the trends just because you hear that there's a new social network and trust me you will .you shouldn't just rush to go jump on it. Guess what happens when you rush to go to a new social network.
What you're doing is you're engaging with probably the same people in your space that are already on Instagram, snapchat, Facebook with you. These people are doing the same thing that you're trying to do. so my recommendation is instead of going to chase that new shiny object work within the existing infrastructure.
TAG THE PLACES YOU VISIT
As you are going to different places on Instagram specifically, as you're going to these places and sharing content, there are other people that are either doing the same or they're looking for content in these venues. so if you go to a sporting event like to a marathon race or a public gathering or say to Kumbh Mela then grow your following by posting content consistently on a daily basis on that gathering, making sure of hashtags and making sure that your content is also easily discoverable with where you visit.
So once again throughout 2019 make sure that not only are you paying to optimize your content and get additional reach but you can also do a couple easy tips and tricks to get more organic reach and it starts with tagging the places of where you visit and post content on Instagram.
That's a wrap thank you so much. If you found this content useful be sure to drop a comment below and also I'd appreciate it if you can share with your social network.
Also read about:
Why do you require WordPress Maintenance
5 BEST FACE PACKS WHICH INCLUDES NATURAL INGREDIENTS
All You Need To Know About Aweber Software For Email Marketing